Article: Jun. 21 | A Midsummer Night Fashion Show

Jun. 21 | A Midsummer Night Fashion Show
Join the clothiers of Ganges, Thursday June 21st 6pm-9pm for a midsummer night of fashion & festivities in the barn at beautiful Bullock Lake Farm.

Live Fashion Show featuring the Spring/Summer collections of participating shops, appies, refreshments + Fantastic Door Prizes, including a GRAND PRIZE of an $800 SHOPPING SPREE at participating shops.

TICKETS ARE NOW ON SALE

VIP TICKETS 01-84: $40
-assigned seating
-access to private VIP lounge
-incl. 1 drink / 1 door prize ticket / canape
Available at Twang & Pearl or Mouat's Clothing.

GENERAL TICKETS 85-225: $25
-standing cocktail tables (no seats available)
-incl. 1 drink / 1 door prize ticket / canape
Available at all participating shops. Cash only.


Participating Shops:
Twang & Pearl, Mouat's Clothing Co. * Bohemia Consignment * Fever Tree * House of Frankly Scarlet * SALT.shop * Pod Contemporary Gallery* Axe & Reel Outdoor Emporium + Local Makers

With Host: John Bateman & Suzanne Little

Nourish & Refresh with: Bullock Lake Farm Kitchen, Salt Spring Wild Cider, Salt Spring Vineyards, Salt Spring Island Ales, Fix Tacos, & Al's Gourmet Falafel and Fries

Event proceeds going to: The Wagon Wheel Housing Society Laundromat Fund

Get your photo taken by Billie Woods Photography at our Midsummer Night photo frame.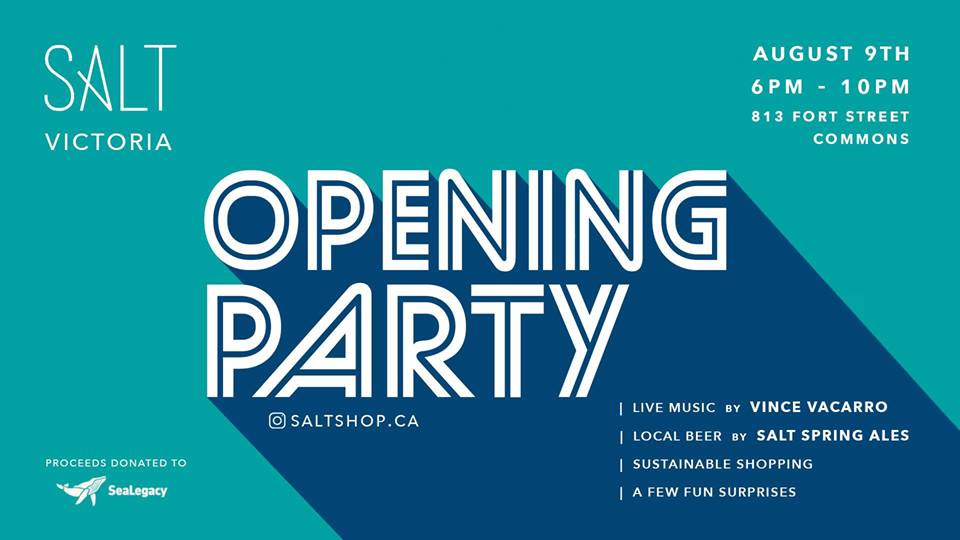 August 9th | SALT Victoria Opening Party
Our doors in Victoria are OPEN! And we need to celebrate! Join us on August 9th as we take over the Fort Street Commons outdoor space behind our shop. It will be a fresh summer evening of:Sustaina...
Read more